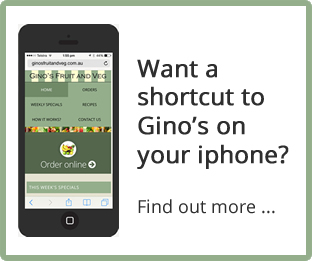 Gino's Fruit & Veg delivers fresh fruit and vegetables to your door. We focus on what is good quality and good value. We welcome your order …
We have upgraded our website to ensure easier ordering from your mobile phone or ipad. You can even add a little icon on your phone homescreen as a shortcut.
This weeks $39 box includes,
2kg brushed potatoes,3 brown onions, 1 spanish onion, 1kg carrots,1 sweet potato,1/4 chinese cabbage
2kg sundowner apples,1kg bananas, 2 mango , 1kg oranges,500gms kiwifruit,
3 tomatoes, 1 capsicum, 1 cucumber lebanese, 100gms salad mix,
UPGRADE TO $50 BOX get extra 1 avocado, 300gms grapes, 500gms pears, 1 lemon, 1 lime, 1/2 celery.
New customer? Find out how it all works.