Gino's Fruit and Veg is based in Jugiong and owned and operated by Jenny and Gino Polimeni.


Gino buys fresh fruit, vegetables and herbs direct from the market – picking each box himself to ensure the best quality he can. He travels up to Sydney each week so our produce is as fresh as it can be. This way, we have far less wastage than your local supermarket and the fruit and vegetables haven't been sitting in cold storage for long periods of time.

This is not something new to the Polimeni's! Gino grew up and worked in his family owned business since he was 14 years old in Elanora Heights in Sydney. This is where he met Jenny who worked there since she was 18. Together we have a passion for good food and delivering quality fresh produce from the best sources.
Our aim is to make your life as easy as possible, allowing you to enjoy the quality and convenience of our fruit and vegetable home delivery service.
Our shopfront in Jugiong is next to the Long Track Pantry and the Jugiong Wine Cellar. Just more reasons to come and see us in Jugiong!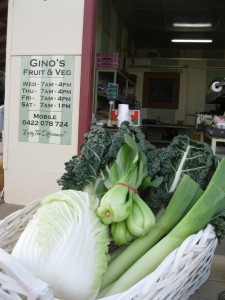 Pop in and say hello!