Are you looking for better value and fresher quality fruit and vegetables?
Are you disappointed with the quality at the large supermarkets?
Do you buy fruit and veg and find it just doesn't keep like it used to?
When do I place my order?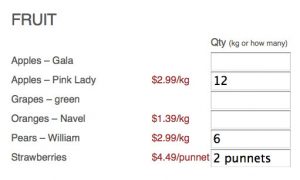 Orders can be placed at any time via our online order form, fax, email or phone. Orders must be received by midnight the night before we deliver to your town. If you require something special or fruit and vege items in larger quantities than usual, please send us your order before Monday 7pm, as this is when Gino travels to Sydney to source fresh fruit and vegetables from the market.
Where do you deliver to?
We currently provide weekly deliveries to homes and businesses in Jugiong, Coolac, Gundagai, Harden, Cootamundra, Binalong, Bookham, Boorowa, Bowning, Yass & Tumut.
Do I need to be home?
No, you do not need to be home to receive a delivery from Gino's Fruit and Veg. When you place your order please tell us a good spot to leave your order if you are not home, eg. if not home please leave at front door. We ask that this is an appropriate location outside your home, free from pets and protected from the weather.
Please note that we cannot be responsible for any unforeseen damage or theft to your order when left in this designated area. We do recommend your order be taken in and properly stored as soon as possible.
How do I pay?
For your convenience we now have a Credit Card option which means you to provide us with your details once and then whenever you place an order Jenny deducts the amount from your credit card.  (Call Jenny to register your credit card details 0422 078 724). Other customers are taking the opportunity to pay by direct deposit through their electronic banking and are paying within 3 days of their delivery which we appreciate. We also accept cash (on delivery).  Please indicate on your order form how you intend to make payment.
Direct deposit details:
G Polimeni
BSB 082640
Account 592336228
How do I know the prices on fruit and vegetables I order?
When you receive your delivered order, we detail prices for all ordered items. We generally provide a guide to customers in our weekly email – suggesting which fruits and vege's are in season and cheaper. Weekly specials updated 10am every Tuesday.  Feel free to call us if you have any specific pricing concerns about your order.
Is there a minimum order?
No, there is no minimum order.
Is there a delivery charge?
No, delivery is FREE.
Other questions?
If you have any questions or queries about your order, contact either Gino or Jenny:
Ph 02 6945 4076
Mob 0422 078 724
Fax 02 6945 4136
Email  orders@ginosfruitandveg.com.au
or pop in and see us at the shop: Riverside Dr (Old Hume Highway), Jugiong