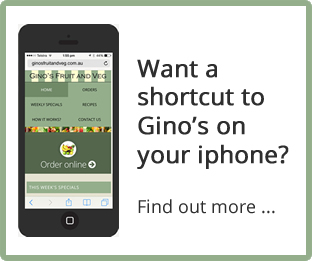 Gino's Fruit & Veg delivers fresh fruit and vegetables to your door. We focus on what is good quality and good value. We welcome your order …
We have upgraded our website to ensure easier ordering from your mobile phone or ipad. You can even add a little icon on your phone homescreen as a shortcut.
 GINOS WILL BE CLOSED THIS WEEK DUE TO A FAMILY TRAGEDY. Sorry for the inconvenience.
New customer? Find out how it all works.